Wolfreton art students make their mark on new Lovell housing development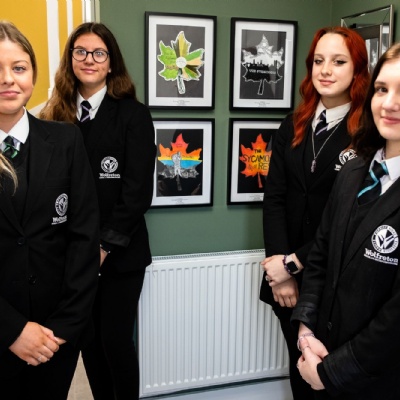 Students at Wolfreton School and Sixth Form College have upheld the school's legacy through interior design in a collaboration with Lovell Homes' latest development, The Sycamores, in Kirk Ella. The new homes are built on school's previous Upper School site which was designated for redevelopment when the new school building, designed by Ryder and built by BAM, was completed in 2016.
To ensure the site's history was honoured, Lovell Homes enlisted art students to design their own sycamore leaves, which have been incorporated into the theme of the show home by interior designer Avril Deehan.
Wolfreton's Subject Leader for Art, Andrew Richardson-Medd explained that the opportunity to be involved in real world projects such as this is always exciting as it reminds students of the importance of design and creativity to our economy. It also gives students an opportunity to work under tight deadlines and aim to produce high quality work.
In preparation for the launch, Avril hosted two workshops with Wolfreton art students to give them an insight into the hard work behind her designs. Once the leaves had been created, she picked the top ten designs, with prizes for the winning three students, which are now framed in the show homes for all visitors to see. The other top designs are being featured in a craft book for visitors to browse.
The students were excited to meet Avril and see some of her previous designs displayed. The finalists said that Avril advised them that they could "do anything" and gave them full creative freedom to draw from a range of inspirations. She also advised them to build a network of people in the creative industry to explore as many opportunities as possible. Mr Richardson-Medd explained that he found it fascinating to see how the students individually interpreted the design brief throughout the process. Many of the students incorporated elements of the city into their designs both urban and rural through the utilisation of different approaches, techniques, processes and media.
Year 10's current modules on pop art and popular techniques influenced Jenson, who used the technique of Mono Printing to depict famous Hull and East Riding landmarks. The shape of The Deep, Hull's iconic aquarium, is layered across a silhouette of the Humber Bridge and the piece has shades of blue running through it to remind us of our maritime history, whilst a graffiti-style background mirrors famous locations like the Fruit Market and Bankside. Jenson hopes to take his creative flare into a career in Joinery where his skills can be used in further interior design projects or through sketching complex designs.
Zahra was influenced by pointillist artists like Seurat in her design, which incorporated a natural theme throughout, with helicopter seeds and a beautiful depiction of a dandelion dispersing its seeds in the breeze. Her interest in the natural world has ignited her aspirations to become a Vet in the future. Whilst Art and Science seem far apart in discipline, they have strong ties as both involve creative problem-solving and intricate complexities.
The first-place winner, Lilyana was initially unsure of what to include in her design. However, with guidance from Mr Richars-Medd, she drew inspiration from a previous student's work and her own passion for sewing, something she regularly does with her family. This led to a piece incorporating textiles and watercolour in earthy, autumnal tones, also depicting Scrabble pieces spelling out Lovell Homes evoking the quality family time which will be spent around the Sycamore estate. Lilyanna aspires to become an entrepreneur in an animal related field such as dog grooming. From her sycamore leaf, it is clear her future business will have eye-catching and innovative branding!
The project taught the finalists many important lessons about the design process. Zahra advised future students to thoroughly research the area of design to understand the context meaning behind it. Jenson explained that he had learnt about how much time and effort was required in design projects. Meanwhile, Lilyanna has learnt not to follow rigid plans as elements can go off course, but if you approach the project with an open mindset, you can be more adaptable if this does happen.
Mr Richardson-Medd previously worked for 13 years in the creative commercial sector prior to becoming an Art teacher in 2005, his advice to students wanting to develop a creative career would be: to build a network of contacts and relationships which you can call upon over the course of your future education and career; to work hard, listen to guidance and advice and to have an open mind to opportunities and possibilities. Most importantly always say thank you and represent Wolfreton's values of Excellence, Endeavour and Respect!