Learners Across the Trust Vote in the UK Youth Parliament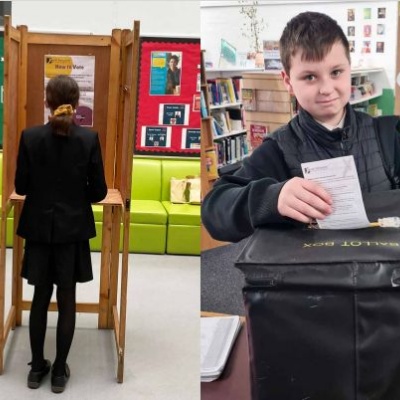 For the first time in 2022 Make your Mark and the UK Youth Parliament elections have taken place at the same time.
Learners from all of our secondary schools across the Trust have taken part in the democratic process and voted twice, firstly having listened to video manifestos from candidates hoping to be elected to the Youth Parliament and then secondly for Make your Mark.
UK Youth Parliament enables young people to use their energy and passion to change the world for the better and provides opportunities for 11-18 year olds to use their elected voice to bring about social change through meaningful representation and campaigning.
Members of Youth Parliament (MYPs) are elected every two years across the UK. Once elected Members of Youth Parliament meet with MPs and local councillors, organise events, run campaigns, make speeches, hold debates and ensure the views of young people are listened to by decision makers. The most important aspect of any Members of Youth Parliament's job is to make sure they represent the views of the young people in their constituency.
Make Your Mark gives all young people aged 11-18 in the UK the chance to have a say on the biggest issues facing young people and they are asked to vote for which topic they care about the most, from a list including: Covid Recovery; Education and Learning; Environment; Health and Well-being; Jobs, Money, Homes and Opportunities; Our Rights and Democracy and Poverty.
Feedback from students on why they felt it was important to be involved was extremely positive:
"Having a chance to vote in the Youth Parliament elections made me feel like I have a voice and a chance to make changes."
"I want the law to change to allow 16-year-olds to vote.''
''It was really interesting to see an actual polling station and understand how it works and how we need to behave in one.''
''I have an autistic brother and he was on a waiting list for over three years before he was seen – we need this to improve so that people get access to both physical and mental health support much quicker. ''