East Riding Active Travel Ambassadors Campaign Junction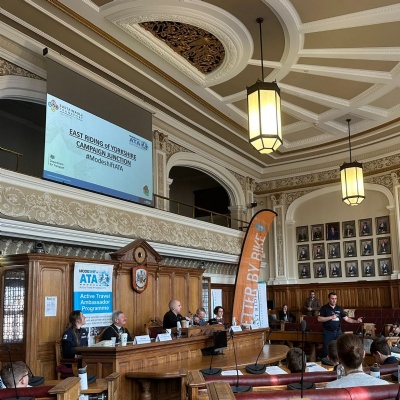 On Wednesday 26 April, four of our schools within the Trust had the privilege of attending Modeshift's Active Travel Campaign event at County Hall, Beverley. This was a fantastic opportunity for Active Travel Ambassador schools to pitch their campaign ideas to a panel of industry experts including Jenny Wiles – Active Travel England, John Marshall – Re-volution, John Whittle – East Riding Council and Emily Sykes – Modeshift. Cottingham High School, Holderness Academy, Howden School and Wolfreton School all presented their campaign ideas and successfully secured £500 funding per school to help run their campaigns and promote active travel in their local community.
Modeshift is the UK's leading sustainable travel organisation. Their mission is to share and recognise best practice in sustainable travel delivery. Modeshift aims to secure increased levels of safe, active and sustainable travel in business, education and community settings. They do this by representing their members needs and supporting sustainable travel practitioners through a range of new and existing services.
What is the Active Travel Ambassador Project?
Modeshift have been running the Active Travel Ambassadors (ATA) programme as a pilot scheme in secondary schools across England. With the support from Local Authorities the project has engaged with 57 schools who are all working through the programme which aims to deliver peer behaviour change in how schools travel.
The programme is funded by The Bikability Trust who they are working closely with to engage better the needs of secondary schools with an aim of increasing Bikeability cycle training into the secondary school curriculum.
A dedicated ATA co-ordinate guides schools through a programme of classroom based sessions which explores subjects such as;
What are the benefits and barriers to active travel?
Travel research and data analysis
Campaign planning, promotion and pitch delivery
Action planning and monitoring
Managing and delivering a campaign
Project evaluation
The Active Travel Ambassadors were pitching their ideas to secure funds of £250 to help run their campaigns in schools and promote active travel aiming to change travel behaviours amongst their peers. The day was split into two sessions with Holderness Academy & Sixth Form College, Wolfreton School and Sixth Form College, The Market Weighton School, Driffield School and Headlands School all pitching in the morning session. Followed by Longcroft School, Cottingham High School, Goole Academy, Howden School and Withernsea High School all pitching their campaigns in the afternoon session.
Each school had the option to focus on cycling, walking, park and striding and car sharing with their campaigns featuring no car days, walking competitions and responsible travel on buses to help increase active travel at school and decrease car use and congestion and improve air quality making the journey to and from schools healthier, safer and more enjoyable while embedding active travel in the school community. At the end of each pitch students received feedback from the judging panel and secured a total of £250 funding per school and an additional £250 from East Riding of Yorkshire Council to support their campaigns!