Hessle A level highlights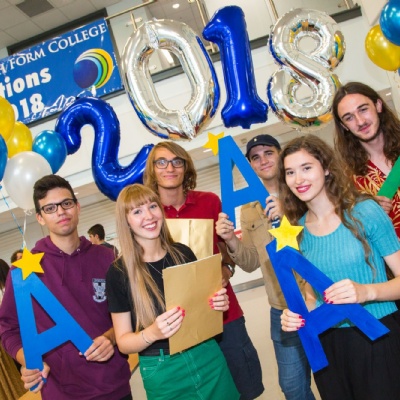 Hessle Sixth Form College, A Level highlights
Overall 100% Pass Rate (six years in a row)
Overall 22% of grades achieved were A*A (or equivalent)
Overall 54% of grades achieved were A*B (or equivalent)
19% of grades achieved in academic subjects were A*A
50% of grades achieved in academic subjects were A*B
82% of the grades achieved in Academic Subjects were A*C
Outstanding results were recorded by English Literature where 82% of Grades were A*B, Biology where 65% of Grades were A*B. Further Maths had an outstanding set of results with 100% A* Grades achieved.
Hessle Sixth Form students are celebrating today as they receive their A Level results. "Yet again, our Sixth Form students have produced results that are ahead of the national average," said Vince Groak, Associate Headteacher. "There are so many individual success stories and our staff are incredibly proud of what the students have achieved. These results are especially pleasing when you consider that the vast majority of these subject courses were redesigned in the past two years to make them more challenging and to better prepare students for their future pathways. In addition, many of our students also studied the new, more rigorous, suite of vocational qualifications and have performed very well. On behalf of the students, I wish to thank all of our staff for handling these changes so professionally and, as ever, we are delighted that so many of our students will now be preparing for the next stage of their education or training, whether that be university or an apprenticeship."
Director of Sixth Form, Louise Price, hailed the individual successes achieved by students. "We are delighted with the success of our students who have worked hard to progress onto their future pathway. Over 88% of our students have chosen to study at University and we are thrilled that two of our students have secured places at Oxbridge universities. Due to their successful results, Cecilia Marchant will study German at Oxford while Will Ransom has achieved a place at Cambridge to study Classical Civilisation. Our continuing success reinforces our philosophy that 'every student is capable of extraordinary achievement' and ensures that students achieve their academic potential. We pride ourselves on providing our students with access to the best possible opportunities to allow them to move onto their future pathways. I would like to congratulate our students and thank them, their parents and our staff team for all their hard work and wish them every success for the future as they go on to start their careers or continue in Higher Education."
Student Success Stories - A Level
James Cameron
"James has flourished at Hessle Sixth Form since joining us from Baysgarth School in Barton and quickly became a popular member of our school community. He has enjoyed his studies immensely and we are delighted that he has been so successful, achieving a Grade A in Geology, a Grade B in Biology and a Distinction in ICT. He will now go on to study Environmental Science at Hull University."
"I am very happy with my exam results which reflect how hard I have worked. Hessle High School and the entire Sixth Form Team have helped me reach this positon. I am looking forward to studying for a degree in Environmental Science from Hull University." Cameron, aged 18
Cecilia Marchant
"We are delighted that Cecilia has secured her place at Oxford to read German – she has shown real dedication to her studies, due to her determination and motivation to achieve outstanding results. She has been a real inspiration to others. Cecilia will be delighted to have achieved her ambition to study at Oxford University. We are extremely proud of her achievements and wish her every success in the future."
"I am really happy with my results and cannot wait to take my next step. I would like to thank Hessle High School & Sixth Form for being so supportive and for giving me the encouragement and direction that I needed throughout my exams." Cecilia, aged 18
Spyridon Lykoudis
"Spyros' academic success story continues. After he achieved some of our best GCSE results two years ago, he has now repeated that success at A Level. Spyros has achieved three A* at A level in Physics, Mathematics and Further Mathematics, including a perfect score in his A level Mathematics examinations (600/600) which is an exceptional achievement unlikely to be matched by many students nationally. Spyros will now go on to study Mathematics at Warwick and we are sure he will continue to be equally successful in the future."
"I am thrilled! I have secured my place at the University of Warwick to read Maths and I am looking forward to the next challenge in my life. The teachers here at Hessle High School & Sixth Form College have been incredibly supportive and continuously challenged me to achieve." Spyros, aged 19
Will Ransom
"Will is a charismatic senior student at Hessle Sixth Form who has achieved above and beyond to secure a place at Kings College Cambridge to read Classical Civilisation after achieving A* Grades in English Literature and History and an A grade in Classical Civilisation. Will is a testament to what can be achieved through hard work and determination. We wish him every success in his future."
"I am over the moon with my results. I am going to the University of Cambridge to read Classics – I am unbelievably excited for this amazing opportunity and I cannot wait to get started. The incredible staff here at Hessle High School & Sixth Form College have really supported and encouraged me throughout my A Levels. I cannot thank them enough. I am truly lost for words!" Wil, aged 18
Mitchell Davis
"We are incredibly proud of Mitchell's amazing success in his examinations. Not only has he achieved superb A Level results in Further Mathematics, Mathematics and Physics, but he has also secured his first choice of university. He is an excellent role model and valued member of our Sixth Form community. He will undoubtedly continue with his success by reading Mathematics at Edinburgh University."
"I am delighted with my exam results and look forward to my new adventure at the University of Edinburgh. I wouldn't be on this pathway without the support of everyone at Hessle High School & Sixth Form College." Mitchell, aged 18
Jack Bellenie
Jack has been a delight to teach in the Sixth Form and his outstanding set of A Level results has secured his first choice of University. Jack is a charismatic and dedicated student and we wish him every success in reading Biology at Manchester University.
"I am thrilled with my results as I achieved AAB. I am so relieved to know that I secured the grades to access my chosen destination – the University of Manchester to read Biology. I cannot wait to start! The afterschool sessions and additional support programmes were invaluable. The teachers were so approachable, friendly and genuinely wanted the best for us all." Jack, aged 18