Hessle GCSE highlights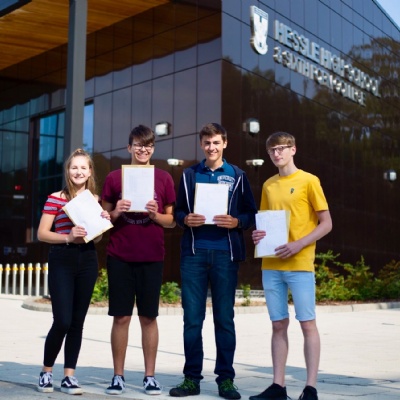 99.1% overall pass rate in new, more rigorous 9-1 GCSEs
61% of all grades in new 9-1 GCSEs were Grade 5 or higher
76% of all grades in new 9-1 GCSEs were Grade 4 or higher
One in five grades in new 9-1 GCSEs were Grade 7 or higher
36 new Grade 9s achieved
Three students achieved five or more new Grade 9s
Overall BASICS (4+ in Eng/Ma) was 70% and BASICS (5+ in Eng/Ma) was 50%
Outstanding results were recorded by Computer Science (80% Grade 4 or above); History (83%); Photography (88%); German (89%); French (100%); PE (85%); Business (87%); Textiles (82%)
Hessle staff and students are celebrating today as they receive the first results from the new,
reformed GCSEs. Despite changes to qualifications designed to make them tougher and more rigorous, the
Hessle High School success story continues with a pass rate of 99.1%, the proportion of
standard passes (Grade 4 or above) at 76% and the proportion of strong passes (Grade 5 or
above) at 61%.
"Our staff and students have taken these new GCSEs completely in their stride," said Vince
Groak, Associate Headteacher. "If anything, the students have performed even better in these
tougher, linear qualifications. Over 20% of our grades were Grade 7 or above and we are
delighted to have so many of the very highest Grade 9s. These kind of results do not happen
by chance; our staff began planning for these reforms five years ago and the fruits of their hard
work can be seen in so many exceptional results. While English and Maths once again
performed well, I am delighted to see students doing so well in Computer Science,
Photography, PE, Textiles, Business Studies, French and German."
The school provisionally calculate that their Progress 8 score will be +0.30, which is well above the national average for the third year running.