Hessle GCSE results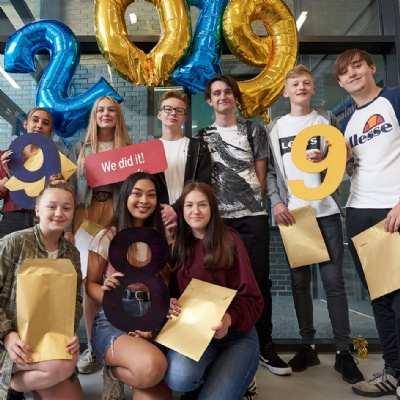 Yet again, and at a time when results nationally appear to have gone down, students from Hessle High School are celebrating remarkable GCSE results today.
Adam Pickering achieved some of the highest grades with Grade 9s in PE, Geography and Science along with Grade 7s in both English Language and Literature. He was closely followed by Fred Camp with Grade 9s in Geography and Business and Grade 7s in Maths, Physics and English Language.
Izabelle Owen's success came in the core subjects with Grade 7s in English, Maths and Combined Science, while Talia Nieto-Charlton was consistently strong across all of her subjects, achieving Grade 8s in Art, Biology and English Literature as well as Grade 7s in Geography, RE, Maths and Physics.
But it is in terms of progress where we have found the most incredible success. Poppy Tuovinen led the way with a Progress 8 score of +3.25 which means that she exceeded her nationally-benchmarked targets by more than three grades per subject. A remarkably achievement which was secured with two Grade 9s and a total of ten subjects at Grade 4 or above.
Princess Baddungon had similar outcomes with a progress score of +2.88. Princess also passed ten GCSEs at Grade 4 or better while Libby Simpkin (+2.16) and Minni Tuovinen (+2.51) also made exceptional progress.
There was particular success across the range of Art and Design subjects, exemplifying the Academy's commitment to a broad and rich curriculum. 57% of students achieved at least a Grade 7 in Textiles while 42% achieved the same threshold in Photography and 32% in Art. Computer Science was also another successful subject with 82% of students achieving a minimum Grade 5 while Business Studies students achieved some of the highest grades (28% Grade 7 and 17% Grade 8s).
Vocational subjects also performed well with 84% of students achieving at least a Pass, and 55% at least a Merit Grade.