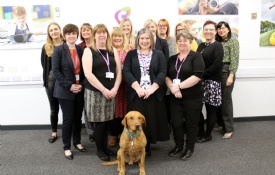 International Women's Day Across the Trust
Published 08/03/22
Today we celebrate all the women and girls within our Trust and schools who do tremendous work every day towards shaping positive futures. You are inspirational and we are proud to celebrate you all today!
Worldwide, 129 million girls are out of school. Poverty, geographical isolation, menstruation and pregnancy, gender-based violence, and traditional attitudes about role of women, are among the many obstacles that stand in the way of women and girls fully exercising their right to participate in, complete and benefit from education.
When girls participate in education at a rate equal to boys, the benefits are felt individually and nationally. The lifetime earnings of girls dramatically increase, national growth rates rise, child marriage rates decline and child and maternal mortality rates fall.
Hessle's Year 12 A Level English Literature class have incorporated International Women's Day by preparing to start their coursework and looking at different female stereotypes in Literature through the lens of Disney princesses
Cottingham had visits from female professional in the fields of Theatre Studies, History, Biology and Business Studies about their career paths and striving for equality in their fields.
These visits included Tamar and Jo, a Hull based dance company, who came in to talk about careers in theatre and dance with Year 12 and 13.
Holderness' Sixth Former wore green and purple and took time to recognise local inspirational women.
Read More